Have you ever thought about how many electrical outlets you will need for your home renovation? It may seem like something so small, but over time you will find yourself more irritated with the lack of outlets you will need if you don't assess your requirements ahead of time.
The necessity of electrical outlets
If we don't have enough sockets or we place them incorrectly around the home, we do have the option to resort to extension leads. However, this option does come with its drawbacks. It can clutter the floor and disrupt the overall style of the room. Not to mention, if you have children or any vulnerable family members, you could be creating a trip hazard!
Where to begin
The first thing you may want to do when planning your electrical outlets is to make a diagram of your home. Look at your home's floor plan to see where you will need electrical outlets. Consider your kitchen appliances, media devices, computing, hairdryers, etc. Decide how many devices will be used in this location and then add one or two outlets to this number. You should also make sure that there is at least one double outlet in the corner of each room and in between the windows of longer walls. Aside from the standard 230V outlet, consider adding a few USB sockets in certain places. This will come in handy for items such as mobile phones.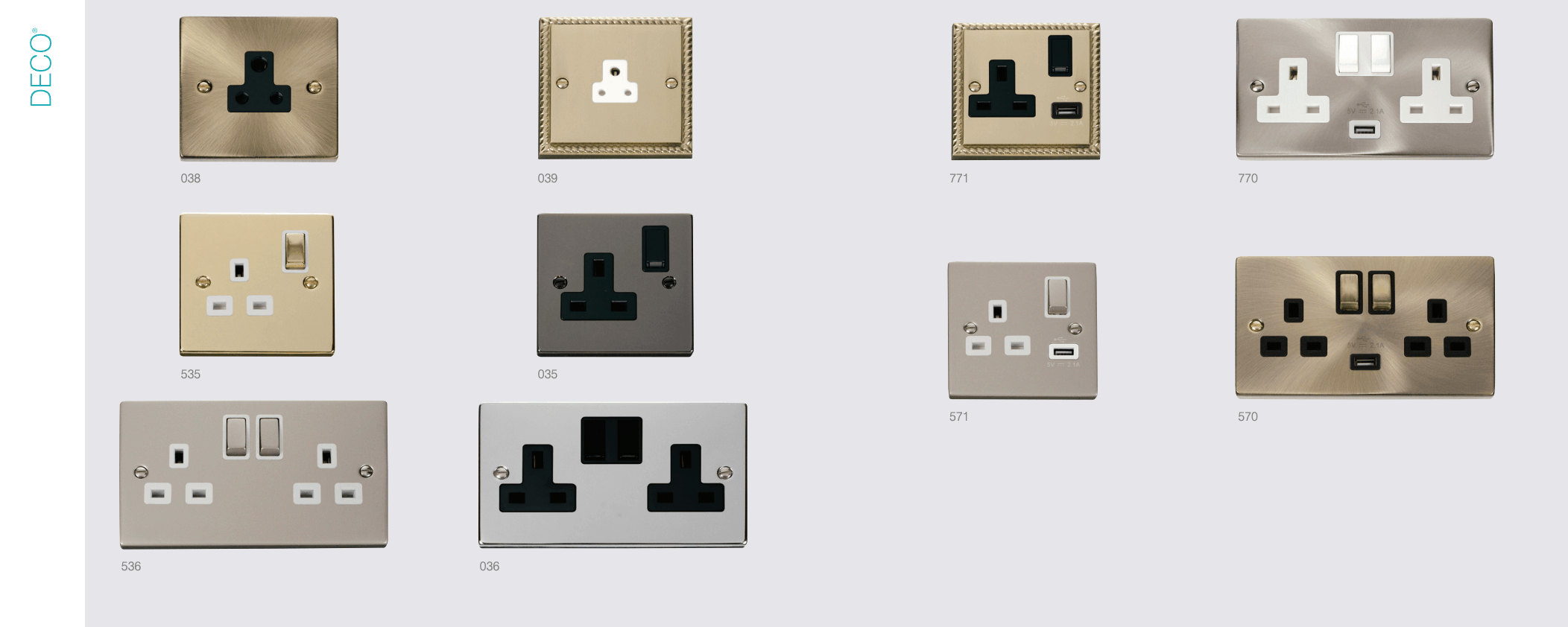 Placement
Let's use the bedroom as the main example as an example. Ideally, you will want to be able to control some lighting elements from either side of the bed. If like most master bedrooms, the bed is placed in the middle, you may want a double socket in the middle behind the headboard for easy reach. However, with most people charging their mobile phones overnight, you may wish to consider two double sockets instead.
Height
Here are a few tips to ensure you vary the height of your outlets in an efficient way:
In the kitchen, install outlets around 10-15cm above the work surface and away from any access to moisture.
For desks, install a cable raceway slightly above the desk surface height.
If you are/live with someone who is less able to bend down to reach the outlets near the floor, have them places 40-50cm above the floor.
Choosing the best electrical outlet brand
You may assume that you could go for just any old brand for your electrical outlets, but it does pay to think it through. With so many competitors out there, each brand offers its own USP. Though you may wish to purchase simple white electrical outlets, you may find that a style that goes with the design of each room can make a huge difference to the finished result. At ABM Electrical, our team are here to offer more than just our products. We offer our expertise to help you find the perfect electrical products for your home. If you would like to learn more about the range of outlet products we offer, or for any other electrical products and advice, get in touch to speak to a member of our team.